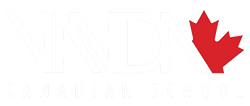 About VANDA
Centrally located at Lower Lonsdale city of North Vancouver. VANDA Canadian School opened in September 2021 with grate 8 to 10 and will be adding Grade 7 and 11 in 2022 as we grow yearly up to all grades. VANDA has re-imagined the modern school system with high-level academic learning within an all-inclusive Arts and Sports environment focused on connection and development.
Testimonials
This school is amazing! Every teacher and the staff member I've met has been so thoughtful and accommodating. I definitely recommend VANDA school.
I am continually impressed by how well the teachers know the students and want them to succeed. This has created a very supportive environment where I see my child prosper every day.
Contact Info
Our Address
370, 233 West 1st Street, North Vancouver, BC V7M 1P1
Working Hours
Week Days: 07:00-19:00
Saturday and Sunday: 09:00-17:00